I want to share something with you that will hopefully make your life easier!
If you've got school aged kids and panic everytime the school holidays come around, check out the School Holiday Planner I've put together. I'm a geeky planner so I created this to remove some of the stress out of it all.
If you haven't got the School Holiday Planner, enter your name and email address below
and you'll get access to download it.
To get started, print the planner . . . it's only 4 pages. Then cut out the coloured boxes of activity suggestions on page 3 and stick them to your weekly plans. Finally, put the weekly plans up on the fridge so you and the kids can keep track of what's happening over the coming weeks. Too easy!
Get the kids involved in school holiday planning
Getting the kids ready each day for all your planned activities will go a lot smoother if the kids have some input into what you get up to over the holidays. And I'm sure everyone will be a lot happier if there's some balance to the things you decide to do. So here's an idea on how to include the kids in the school holiday planning:
The weekend before the holidays start, sit down with the kids and write a list of things the kids would like to do. Start by asking:
Where are 2 places you'd like to go?
What are 2 things you'd like to do?
Name 2 people you'd like to see?
What are 2 books you'd like to read?
What are 2 things we can make?
From here you can add their suggestions to your weekly plans.
Note: I included the TO DO section at the bottom for those chores or errands that crop up that you will need to schedule into your weekly plan.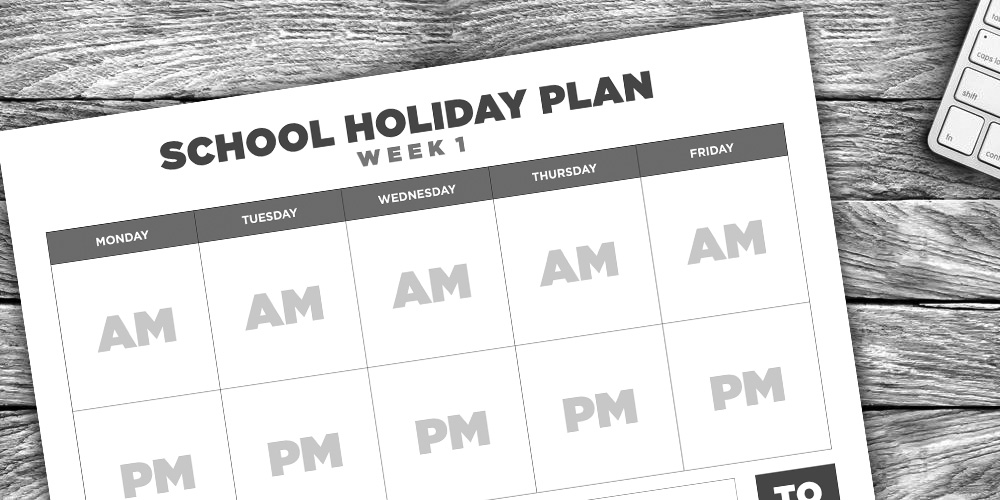 Coming up with activity ideas can be challenging
On the last page of the planner I've included some activity ideas. There's free activities, craft, outing and chill out suggestions. There's bound to be days where you just want to stay home but you don't want spend all day listening to 'I'm bored!'. So I've tried to include some activity ideas that don't include a lot of planning but should keep the kids amused.
And remember, the school holidays are a time for the kids to recharge their batteries so make sure you plan in some lazy time where the kids can take it easy and have a break from a schedule.
So I hope that's useful and takes a bit of stress away from the thought of the school holidays fast approaching 😀
And if the thought of the school holidays is stressing you out, be sure to read these posts for more tips and tricks:
5 Tips For Surviving The School Holidays
FREE Things to do in the School Holidays
Until next time, take care!
Renee
xxx
> > This post was originally written for My Fun Box
You might also enjoy:
[latest_post type='boxes' number_of_posts='3′ number_of_columns='3′ number_of_rows='1′ order_by='date' order='DES' category='parenting' text_length='0′ title_tag=" display_category='0′ display_date='0′ display_author='0′]