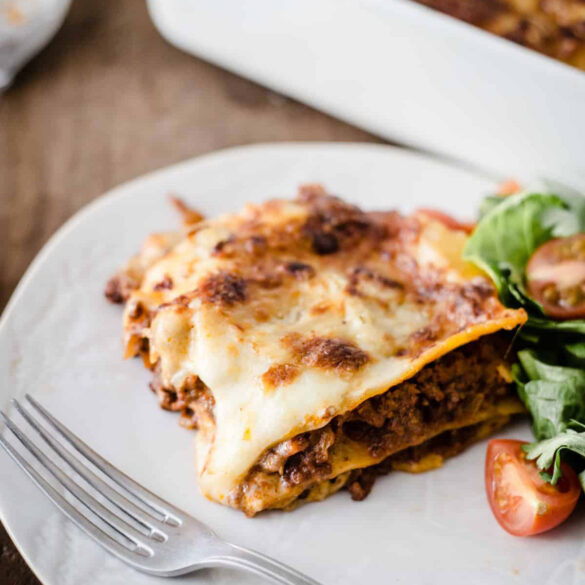 Ingredients
500g Beef Mince
1 Carrot - grated
1 Courgette - grated
1 Parsnip - grated
3 Mushrooms - diced
1 680ml Jar Tomato Passata
1 Tbsp Garlic Salt
1 Tbsp Onion Salt
1 Tbsp Runny Honey
1 Tbsp Balsamic Glaze
6 Lasagne Sheets
1 Jar Heinz Seriously Good Lasagne Bake Sauce
1 Bag Baby Spinach
Instructions
Preheat oven to 220°C.
Heat a dash of oil in a large frying pan.
Add mince and brown over a medium to high heat. Use a wooden spoon to break  up the mince.
Add the grated vegetables and mushrooms to the pan. Heat through till the vegetables start to soften.
Add the jar of passata, garlic salt, onion salt, honey and balsamic glaze and stir through.
Simmer for 15 minutes.
Remove pan from heat.
To assemble: Spoon a third of the mince into a large baking dish. Add a third of the baby spinach then lay two lasagne sheets to cover the mince. Repeat this another two times so you end up with the last two lasagne sheets on the top.
Pour and spread the Heinz sauce over the top.
Pop it in the oven and bake for 45 minutes, until the pasta is cooked and the top is golden.
You can serve with a green side salad. We love to eat our lasagne with pita garlic bread! This recipe makes enough for two meals for our family of four. I freeze half the lasagne and reheat on those nights when I don't have time to cook!