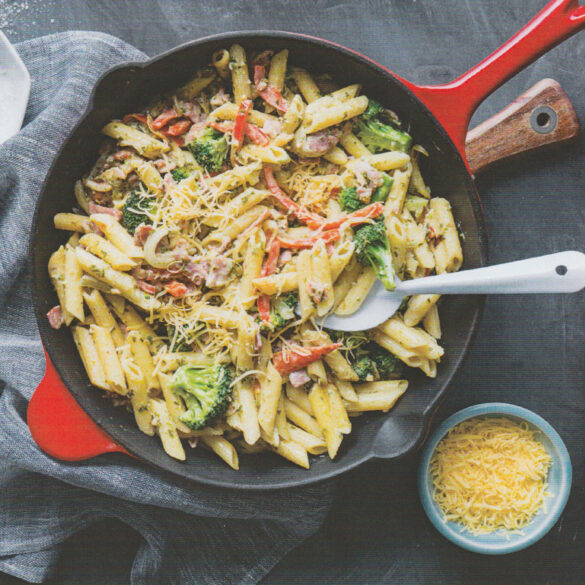 Ingredients
400g Shoulder Bacon - diced to 1cm
1 Brown Onion - thinly sliced
1 Red Capsicum - thinly sliced
1 Broccoli - cut into small florets
1 Clove Garlic - crushed
1 Jar Basil Pesto (200g)
1 cup Sour Cream
1 Bag Baby Spinach
400g Penne Pasta
Instructions
Bring a large pot of salted water to a boil.
Cut the bacon and prep all the vegetables.
Cook pasta in the pot of boiling water for 9 minutes.
Then add the broccoli, to sit on top of the pasta, and cook for a further 3 minutes, until just tender.
Drain well, then return to the pot with a little oil to prevent sticking.
Heat a dash of oil in a large fry-pan on medium heat. Cook the bacon for 5 minutes, until it's starting to brown.
Add the onion, capsicum and garlic. Stir and cook for a further 2-3 minutes, until the vegetables have softened.
Reduce the heat to low-medium and add the pesto, sour cream, drained pasta and broccoli. Mix to combine and cook for a further 1 minute, until warmed through.
Season to taste and stir through spinach.
To serve you could top the pasta with Parmesan. It's tasty enough without it though! This recipe makes enough for some leftovers too. A Bargain Box recipe that I couldn't find online.