Some of the memories that stick in my mind the most from being in the depths of my pre- natal depression are:
Sitting on the stairs crying for what seemed like hours because I just could not bring myself to make my lunch but I knew I needed to eat,
Pacing around as if somehow I could walk out and escape my body and mind,
Sitting and rocking back and forth feeling like a 'nutter',
Not understanding how I couldn't do seemingly simple things like have a shower.
Depression is hard to explain
Those of you that have suffered depression may relate to some of these things. But for those that have not, I could never really explain what it was like to be stuck in that state, not knowing if you would ever come out.
The only thing that got me through was believing it was caused by my pregnancy hyperemesis and hormones, and that come nine months I could be free.
I don't know how some people pull through illness without an end in sight.
People and knitting got me through
The things that helped me the most were being around people and getting back into some knitting, for my soon to be baby, with the help of a friend.
It was these things I remembered 4 years later as I tried to find a new path in my life. I suffered a breakdown caused by stress in a career that I'd lost connection with. This sent be back to the dark place.
I felt as though my depression was caused by me squashing my creativity. I had that little voice inside me telling me that I was wasting my real talents.
I was forced to stop and think about what I was doing with my life and WHY
I nearly lost everything, including my marriage, and realised things needed to change. I simply couldn't continue pushing myself. I was in a continual state of stress to be successful in a career that lacked purpose for me.
After being in tunnel vision survival mode for so long, I started to really open my eyes and awaken to what was going on in the world. I started to believe, thanks to the influence of my amazing sister, that we can all make a difference – no matter how big or small. I started to do a lot of work around re-discovering what my talents were and how I could use them in a purposeful way.
Finding purpose from my depression
As with most people who discover a way to help people, it comes from the experience of their own struggles and how they can help people through the same thing.
When I thought about how I could help people suffering with isolation or mental health, something I could still remember the pain of so vividly, it really inspired me to look deeper.
I was shocked at how many older people in NZ suffer from loneliness and how many people had engaged with mental health issues. So I thought I could help, in some small way, with the therapy of human connection and the proven therapy of knitting and crochet . . . which would also provide me a creative outlet.
The start of a dream
So I dreamt up, what I thought was a pretty crazy idea at the time, to bring people together for social connection and friendship, and to make things for people in need while enjoying the therapy of making.
At the time I was learning a lot about social enterprise. How it merges with the charitable side of purpose with business/trading to be sustainable . . . rather than relying on grants and donations, like the traditional charity model.
Having been in business for many years, this really appealed to me as I could see the power that business had to create real impact. I started to connect a lot of dots looking back, and realised how all the experience and skills, and pain, I had had in my life had set me up perfectly to do this.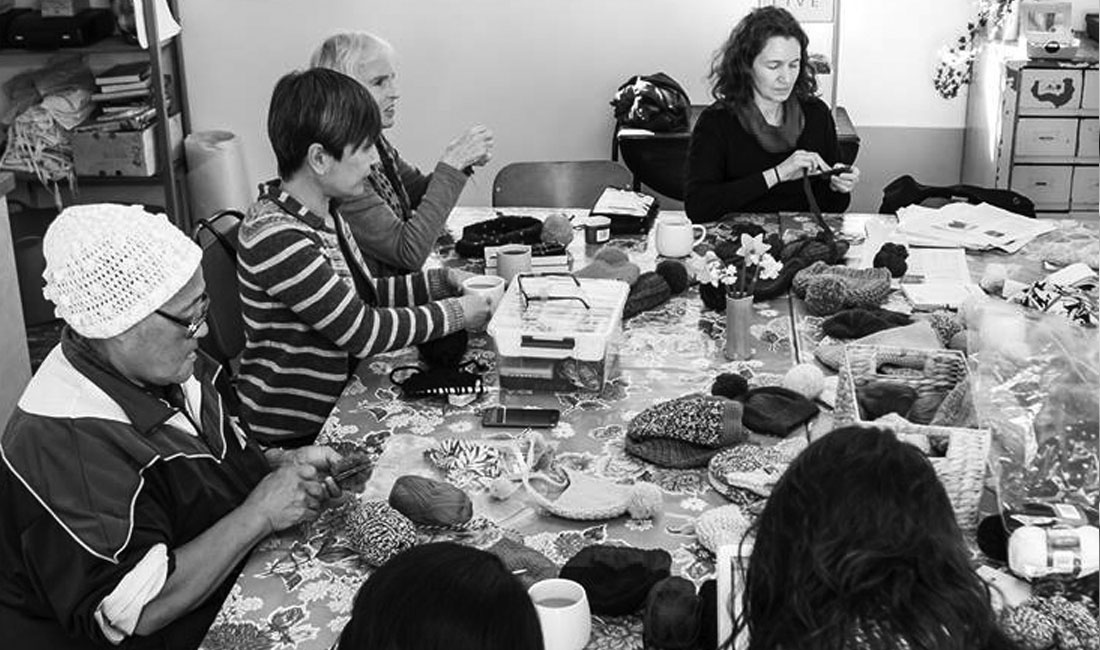 Make Give Live was born!
Make Give Love . . . a collection of socially, hand crafted beanies that are sold as 'buy one – give one'. So for each beanie sold, we give one to someone in need, in New Zealand.
Our purpose is to ease isolation as well as improve mental health and wellbeing in communities, while also giving warmth to people in need.
I bravely put the idea out there to my local community and a few ladies came along to the first meeting. They were quite curious about the idea and from there it just grew.
To be honest, I wish I had been a bit more ready and had systems and processes properly in place before allowing the growth. I spent a lot of time in catch up mode. I still am! But I couldn't turn people away who wanted to be part of it.
We are so grateful for all the people that this concept has brought together to do good. We now have 5 groups around Auckland – Central, Birkenhead, Kumeu, Whanagaparaoa and Millwater. We also have a waitlist of people wanting to establish groups in their area. And we've had amazingly talented women who have come to our groups and grown into key roles.
Now the challenge is how we can create a model, and resources, that we can offer to communities further afield. There is keen interest in the way we do things but we need a bit more of a 'hands off' system to allow for growth.
I created a movement
I see such potential in what we are creating . . . a movement towards valuing people regardless of age or background, and creating a space for them to connect (without technology) and create with purpose.
Its also valuing hand crafts. Enjoying the therapy of it and sharing skills, and spreading the message of giving to others which is powerful therapy in itself.
The stories of change from our makers and all the positive feedback from the people buying gorgeous beanies and supporting good at the same time, makes all the hard work worth it.
Has finding my purpose made me mentally healthy?
In some ways yes. Mostly thanks to the amazing people around me. But I still do struggle with the balance sometimes and the pressures of growth.
Sometimes I also need to remember to sit and knit, and appreciate what we have achieved instead of focussing on the gap between where we are at and the big vision. Good things take time!
Claire ~ Founder, Make Give Live
www.makegivelive.com