The beginning of last year, in early 2022, I was in one of the darkest places I've ever been. If not the darkest if I'm being truly honest. 
I was struggling to get out of bed, I wasn't 'working', I hated myself, I felt like my relationship with Phil was close to being over, my relationships with some key family members were not good, I was having to make decisions for my boys that I felt I shouldn't have to make, I withdrew from everyone . . . I really didn't want to be here. I was existing, surviving and life felt very hard.
I reached out to my therapist of a few years back and after a few sessions, was diagnosed with CPTSD, depression and anxiety. This was on top of knowing I was burnt out from three years of HARD. 
I knew I struggled with depression but had no idea that I was living with anxiety or PTSD. I thought the way I felt inside, and how I lived my experiences, was normal. 
How validating it is for me now to know that it's not! That forty or so years of various trauma has coloured my experience in such a way that I had no idea who I truly was.
What I was, was a people-pleaser who ignored her needs and intuition, and did what should be done. I truly believe I lost my essence.
And so the healing began, and continues!
Rediscovering Myself Through Self-Healing
I want to say, the work I'm doing on myself is an ongoing process and is really challenging most of the time. I'm not going to lie . . . this work is hard! But my self-healing journey so far has been one of the most transformative experiences of my life. 
Having the awareness of past traumas is helping me to build healthy habits and practices to manage my mental health. It's helping me to rediscover what beliefs are actually mine. I've learned so much about myself and what I'm capable of. I feel like I'm coming home to myself which is such a precious place to be in! 
I'll share more of my self-healing journey when it feels right, in the hope that by sharing my story I can help others . . . whether they are on their own healing journey or feel hopeless like I did, not so long ago.
How Creativity Helped Me During My Darkest Times
During this time I wasn't 'working'. I literally just existed. There was no capacity within me to be or do anything . . . except care for and feed my boys on the most basic level.
I'm a creative. That's something I know for sure about myself. One thread that has traveled with me through my life and continues to show up for me, that I'll be forever grateful for.
We'd recently built a brand new home. One of the biggest projects of my life and made harder with COVID and construction issues. Another story but we got there.
Nate loved his new, dark, cave-like room and asked for some posters for the walls. He LOVES music and so decided he wanted music themed wall art for his room. I created a set of five posters with inspirational quotes alongside black and white photography. And I was inspired!
I started creating digital files of sports-themed and inspiring posters for kids bedrooms, and added them to my Etsy shop. Managing just a few hours of work a week at most!
Creating a Successful Online Business While Prioritising Self-Care + Family Time
It started from a place of wanting kids to never give up on themselves. To believe in themselves and to keep trying with the things they're passionate about. I wanted to influence kids all around the world, to love themselves and all that makes them uniquely them. To not lose themselves in the expectations of others, like I did at such a young age. 
When I felt inspired to be creative and had the capacity to create, I would add another set of posters to my shop. Always with my self-healing and mental health in mind and during school hours. 
I want to be the mum that drops her boys to school and picks them up from the school bus. I want to be the mum that's available for school trips and extracurricular activities. I want to have sacred Me Time that's a priority in my weekly schedule. I want to keep a clean and tidy home. I need to have weekly therapy to continue self healing. I want all of this without sacrifice . . . which I've been taught is what we do. But no more! I no longer sacrifice my joy and myself because that's what others want of or from me. No!
And so I have an online business or shop that, for the past six months, has generated over $1K a month. All with the above happening in my life!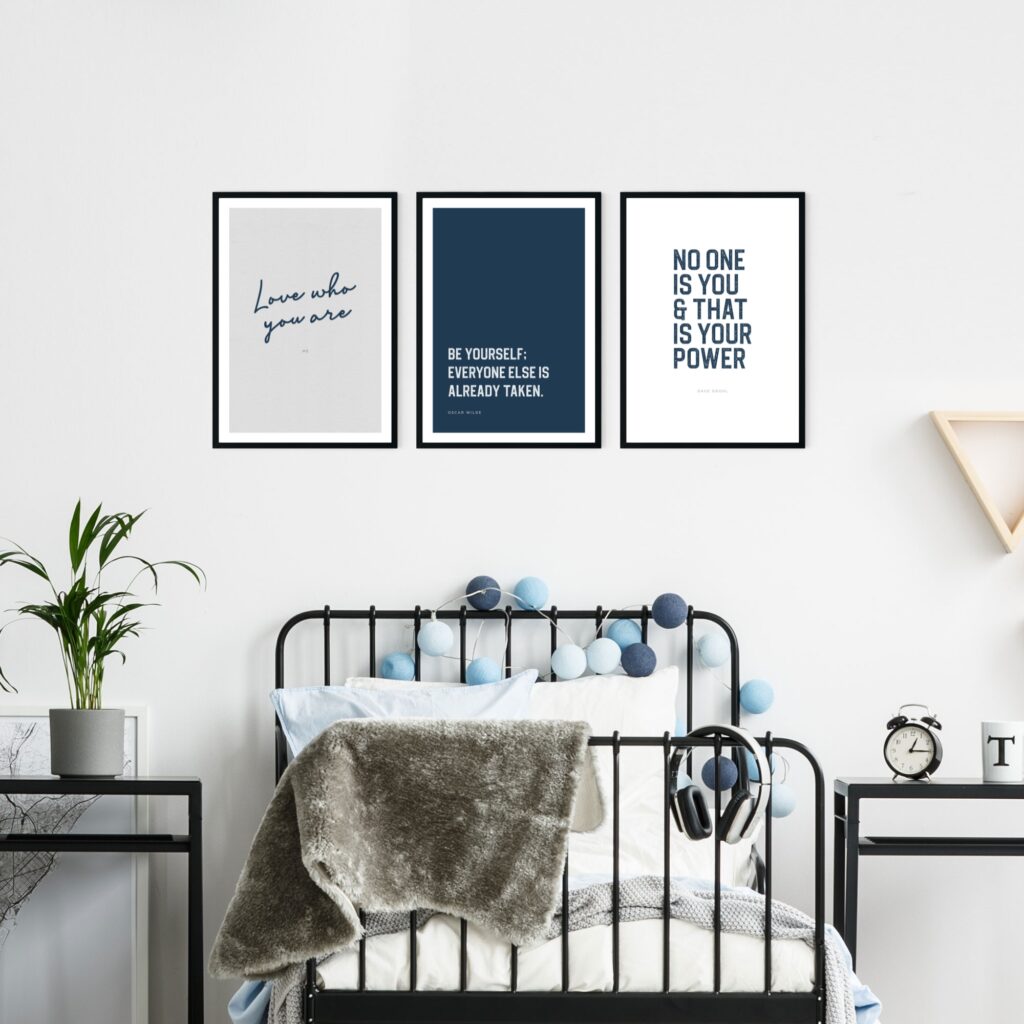 Side note: I have other online shops but this one is my most successful so far. With this shop I found niching down really helped to grow traffic to it (traffic that converts) and helped me to stay consistent in adding new products. I'm still building my other shops and testing product ideas with the goal of having at least two shops making $500 each a week.
I have created abundance for myself while being a present mum, healing and working with my mental health. And so when I see other mum's wanting financial independence for themselves and thinking it's too hard, and without sacrificing being the mum they want to be, I want them to know it is possible. 
I want you to know it's possible. And the impact this will have on your kids, watching you do life in a way that works for you . . . immeasurable and inspiring to say the least!
How to Identify Your Skills & Talents for Creating a Potential Business
So how could you start something that creates money for you and your family while also prioritizing your time, and need, to be a present mum?
Ask yourself:
What am I good at? 
What am I already doing for others that could have the potential to be a product or service I could offer others?
What knowledge or skills do I have from previous jobs or education?
If you struggle to recognise what you're good at and what you could offer to create a business, download my free workbook that will help you to dig into your gold mine of skills and talents.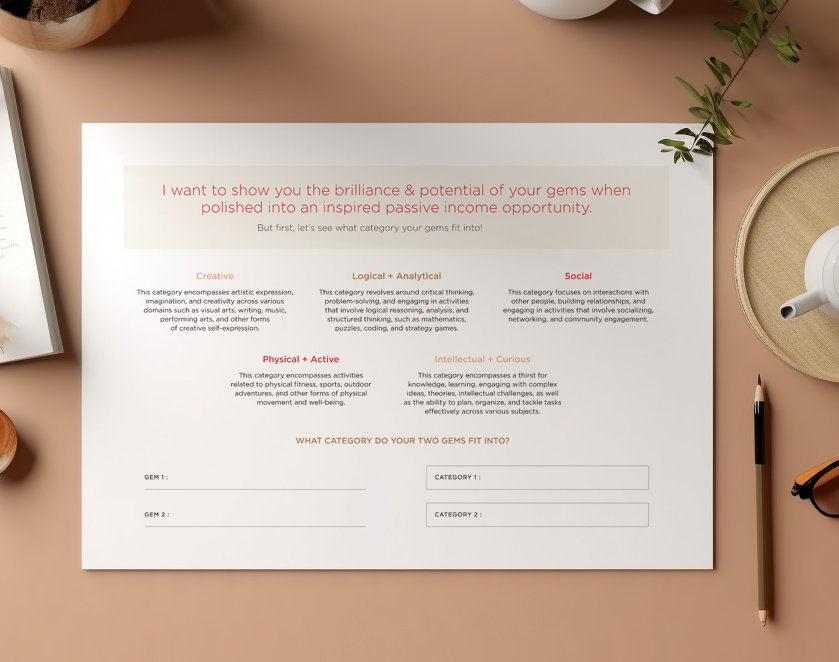 Click here to download your FREE workbook: Discover Your Hidden Potential. A Mama's Guide To Passive Income
From Graphic Design to a Meaningful Online Shop
For me, I have graphic design experience (I had a graphic design business for over 12+ years). I know how to create digital files that people can print themselves. I have the computer and software to create these posters easily. I have an eye for bold design and strong imagery. And I'm inspired to create meaningful posters for kids' bedrooms. So I took all that, those skills and talents, to create the online shop. 
And, with my mental health being the way it is, I didn't want to have to show up online and 'sell' my work. Remember, some days I couldn't get out of bed so promoting myself on social media was not something I felt I could, or wanted, to do. So I created my shop within an online marketplace that creates and drives its own traffic.
Creating a Successful Business Without Sacrificing Your Mental Health or Motherhood
If you're wanting to make money without sacrificing being the mum you want to be, you can. If you're a mum struggling with mental health issues and feeling like you have to sacrifice everything for your family's sake, I want you to know that there's hope. 
I've been there and in one of the darkest places of my life, I found a way. Through therapy, self-healing and creativity, I built a successful online business that generates over $1K a month. I'm still doing the work on myself and still growing my businesses and I'm doing it all while being a present mum, prioritising my mental health and self-care. 
Disclaimer: I'm not saying it's easy or that everyone can do it. I'm saying it's possible! If you have a skill, a talent, or a passion, you can turn it into a source of income and fulfilment that supports your family and your mental health. 
You can be the mum you want to be without sacrificing your joy or yourself. Believe in yourself and your potential, and choose to create financial freedom your way!
Here's a link to the free workbook again: Discover Your Hidden Potential. A Mama's Guide To Passive Income
Until next time, take care!