According to Katrina McCarter from Marketing To Mums, the two main things that keep us mums awake at night are the health and wellness of our kids and money. She would know as she surveyed over 1800 mums to get these results.
So it's no wonder, when I asked the ladies in my private support group how they were doing the other week, a couple of the mums commented on having money problems and daily arguments with their husbands about it.
When we're having sleeping issues, struggling with being a mum and dealing with depression, the last thing we need is added stressors like money.
This content is just as much for me as it is for you.
I'm no expert when it comes to money. Sometimes I feel I'm an expert at spending it. LOL! But seriously, I want to help here so before I get some outside help for us, I thought I'd do a little bit of research and get together some ideas to get us started.
Here's 5 resources I found to be helpful:
---
1. Blog ~ How to Talk About Money with Your Partner
Top Tips:
When having discussions about money, avoid using the word 'you'.
Do not place blame on your partner.
Allow some free spending.
Try and all-cash month.
There's also a great list of questions you can ask yourselves so you can have a productive conversation about your money issues and expectations.
Read the full article here: http://www.financesuperhero.com/talk-about-money-with-your-spouse
---
2. Blog ~ 18 Financial Tips for Marriages
Top Tips:
Establish your money personality – spender or saver?
Set goals and a budget together.
Be open minded – your way isn't always right.
Develop a system together and both get involved in managing your money.
Never let the problem become more important than the person.
Discuss, discuss, discuss.
And seek professional help if needed.
Read the full article here: http://www.thedatingdivas.com/financial-tips-when-a-saver-marries-a-spender
---
3. Blog ~ How to Improve Your Relationship with Money
Top Tips:
Read the full article here: http://www.thebudgetmom.com/how-to-improve-your-relationship-with-money
---
4. Blog ~ How To Talk About Money Without Causing A Big Fight
Top Tips:
You've got to be honest.
Pick the right time to talk.
Be willing to give something up.
Don't attack the other person.
Admit your mistakes and failings.
Establish your values and compare them.
Be an example of what you want a healthy marriage discussion to be.
Read the full article here: http://afreshstartonabudget.com/how-to-talk-about-money-without-causing-a-big-fight
---
5. Book ~ Kill Your Mortgage and Sort Your Retirement by Hannah McQueen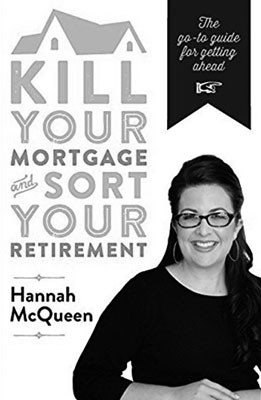 I bought this book because I wanted to understand money better. My Silver Fox is a numbers and spreadsheets guy – I'm the creative. So many times I felt like I got left behind in conversations around money.
This book is great at explaining things (financial terms, strategies etc.) in layman terms. I felt I actually understood how money works and I remember having moments of, 'Oh that's what that means!'
Now, there's so much more to the book than what the title suggests. In the first part alone, you'll learn what financial stage you're in, how to create a budget with cash surplus, the fritter factor and why you shouldn't trust credit cards.
The book obviously goes into how to kill your mortgage, how to create wealth, planning for your retirement and how to help you children (a hand up not a hand out).
I highly recommend this book. You can buy it here!
Note: This is an affiliate link. It won't cost you anything extra . . . it just means I'll get a little bonus for referring you!
---
Still struggling to communicate with your partner about money?
If you need professional help with budgeting or managing your finances, check out:
Enable ME
Citizens Advice Bureau
Sorted
NZ Family Budgeting Services
I hope this has been helpful! And if you have any money tips of your own, please share by commenting below.