For as long as I can remember, I've been a list maker and a planner!
I could never take a trip overseas without any accommodation booked. It would just stress me out too much. Hence spontaneity isn't one of my core values 🙂
Anyway, My Silver Fox used to cringe at the sight of my to-do lists. They were completely unrealistic of what I could actually achieve in a day. On Saturday morning he'd ask, "What do you want to do this weekend?" I'd whip out my to-do list . . .
. . . and he'd give me the, 'Are you serious?' look! It was no wonder I felt down and out come Sunday evening when I'd only managed to cross maybe five things off the list.
But I would do this everyday. I was consistently putting pressure on myself to achieve a multitude of things in 24 hours.
I LOVE Planners
The other thing that doesn't help my situation is that I LOVE diaries and planners. They're just so pretty and they make it look like the planner will simplify my life. And believe me, I've spent quite a bit of money trying out different planners and journals . . . I've had the Erin Condren Life Planner and the Day Designer, which both cost a small fortune to get shipped over from America.
In my Erin Condren Life Planner, I had each day divided into HOME, WORK and MY FUN BOX. Under each section I would list my to-do's for each. I wish I had kept one of them to show you what it looked like when I was using it but this photo gives you an idea: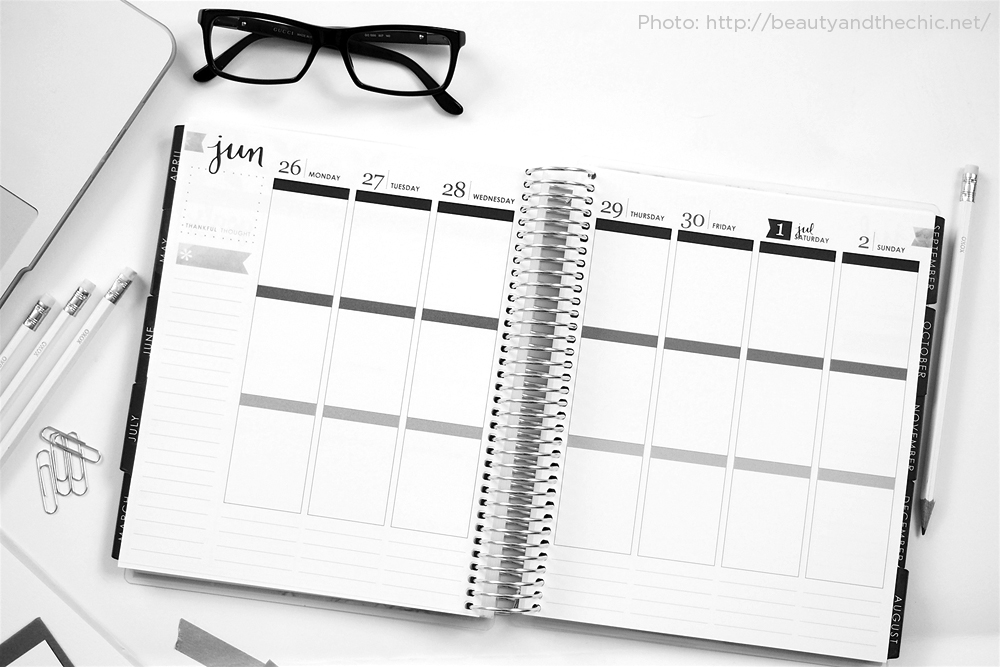 And this year, up until I started on the crazy pills, I was using the Day Designer first like this: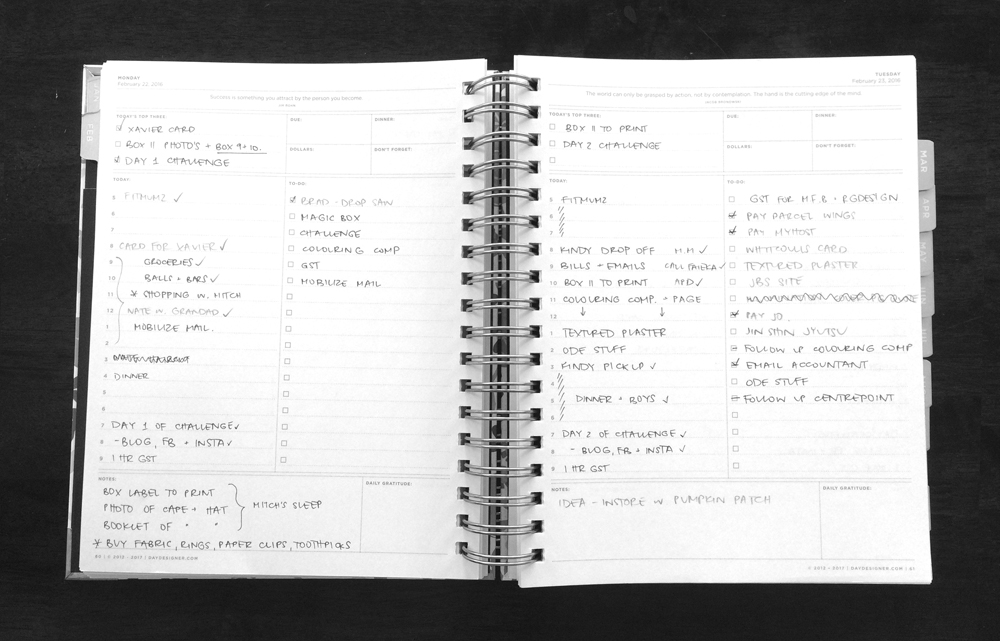 Then like this: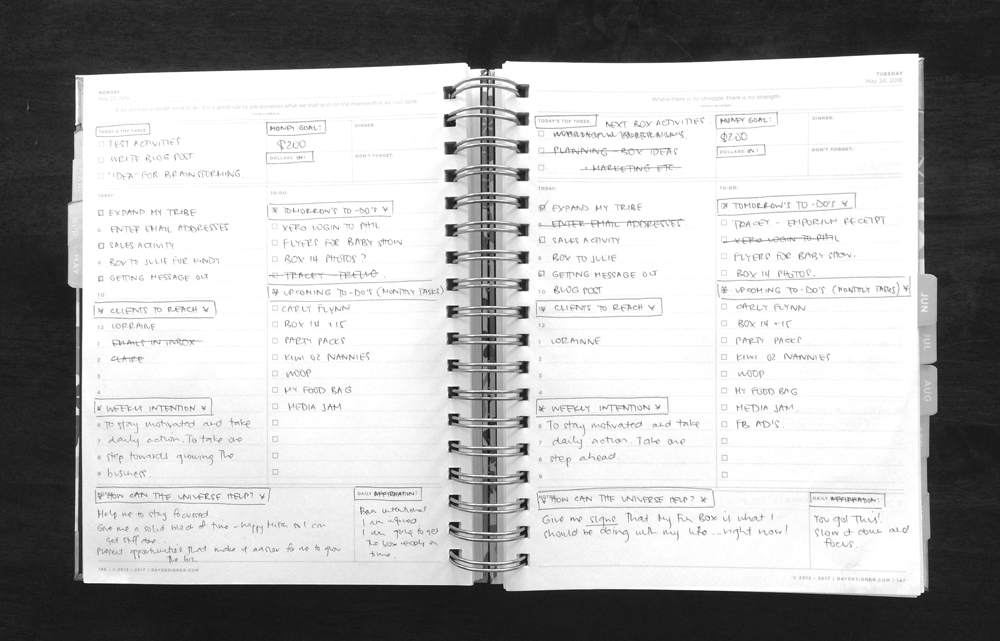 Too Much Space = To Many To-Do's
It got to the point where I felt I had to fill the pages of the planner. As you can see, it all got overwhelming and I'd get to the end of each day feeling like a complete failure. And I know . . . trying to run two businesses, a household and two kids is a BIG ask of one person. Yet, everyday I kept putting the same pressure on myself and I eventually cracked. But that's another story!
When I finally admitted to myself that I couldn't get myself out of 'the fog', or depression, I realised the unrealistic to-do lists weren't serving me at all. They were only adding to my 'I'm Not Good Enough' mindset.
Fuck The To-Do List
So I said to myself, "Fuck the to-do list!" and decided to make my own, highly simplified, weekly planner. I put a whole week onto one page, with each day only having a few lines, a Dump It section to brain dump ideas and thoughts, and a space for things to remember. I used to have such a good memory . . . now I forget why I walked into another room!
Don't know what a brain dump is?
A brain dump (sometimes spelled braindump, or brain-dump) is a complete transfer of accessible knowledge about a particular subject from your brain to some other storage medium, such as paper or your computer's hard drive.
Anyway, I've been using the 'My Week Ahead' planner for about four or five months and it's working great for me. Here's an example of how I use it: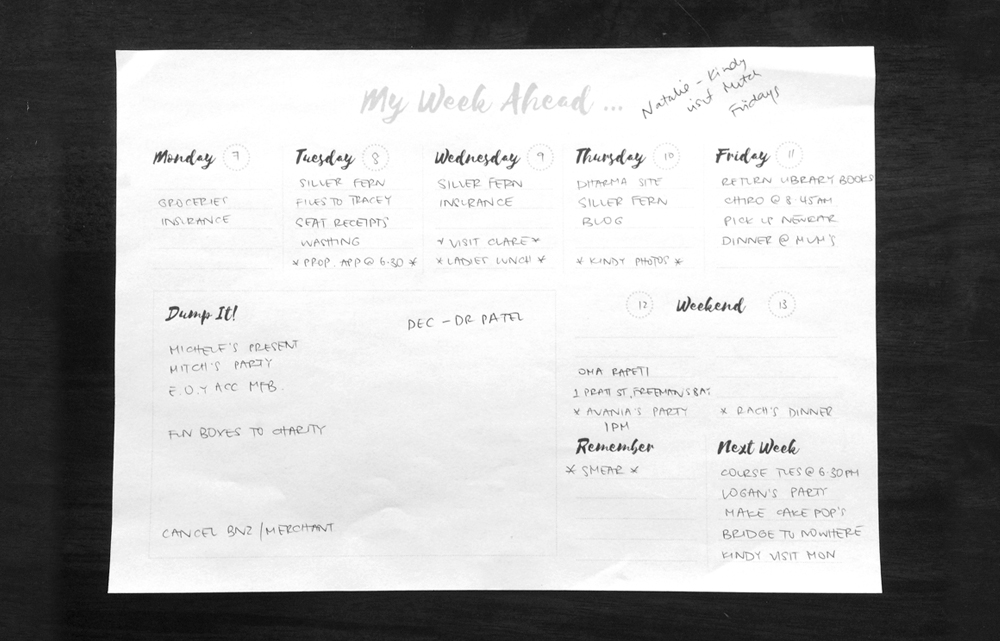 So on either Sunday night or Monday morning, I sit down with my monthly calendar and my weekly planner page. I note down all upcoming events up for the week, onto the planner. I usually asterisk them so they stand out a bit more. Then I look at the previous week's planner page and take anything from there that I haven't done, and add it to the next week's page. And then anything that comes up during the week, I can just add as I go.
And as you can see, there's so much less to-do compared to how I was using the other planner. Yay!
Get Your Copy Of My Weekly Planner
If you want to simplify your diary and to-do list, get a copy of My Weekly Planner and try it out for free. But there's a catch . . . I'll give you my free planner for your email address. FYI – I will only send one email a month and it will have updates on what's been happening on the blog, as well as inspirational bits and pieces!
Are you a list maker? Comment below on how you use yours.
Until next time, take care!