Have you ever heard yourself saying, "What works for one doesn't work for the other!" when it comes to parenting your kids?
I find it SO intriguing that siblings can have the same ingredients (in very basic terms, same mum and dad) and same environment/upbringing yet be SO different. That whole nature nurture thing definitely comes into play I reckon and my boys have had me saying this many times!
If this sounds a bit like you and you're struggling to find ways to parent the different personalities of your children, then read on.
I'll share with you an example of how my child chart readings can give you clues and tools to communicate with your unique children.
Caroline, mum of three, was looking for ways to communicate with her kids better
Caroline, mum of two boys and a girl, contacted me after reading one of my emails about my new love of human design and astrology.
She wanted to get readings for her boys as she was "struggling to find ways to parent them as they both have different personalities and what works for one doesn't for the other."
When I asked what she was hoping to get out of the child chart readings, Caroline said:
"I'm really looking for clues to communicate better with them. What works for Q doesn't work for Z. Both have really strong personalities, as well as Dad and I, so at times can feel like a battle of wills and stubbornness! When the kids play sport, after a game you can say to Z what he needs to work on but with Q he can shut down."
I ended up doing human design and birth chart readings for her three kids, plus herself. Their Sun and Moon signs plus Energy Type can tell us a lot about the energy dynamics of Caroline's family.
Here's some key points I discovered in Q's charts:
Wanna discover this stuff about your child?
Grab your FREE copy of Emotions & Me workbook here:
For the example of this family:
Her son Q is a Taurus Sun, Virgo Moon and an Emotional Projector.
Her son Z is a Scorpio Sun, Sagittarius Moon and an Emotional Manifesting Generator.
Her daughter T is an Aquarius Sun, Scorpio Moon and a Generator.
Caroline is a Pisces Sun, Scorpio Moon and an Emotional Generator.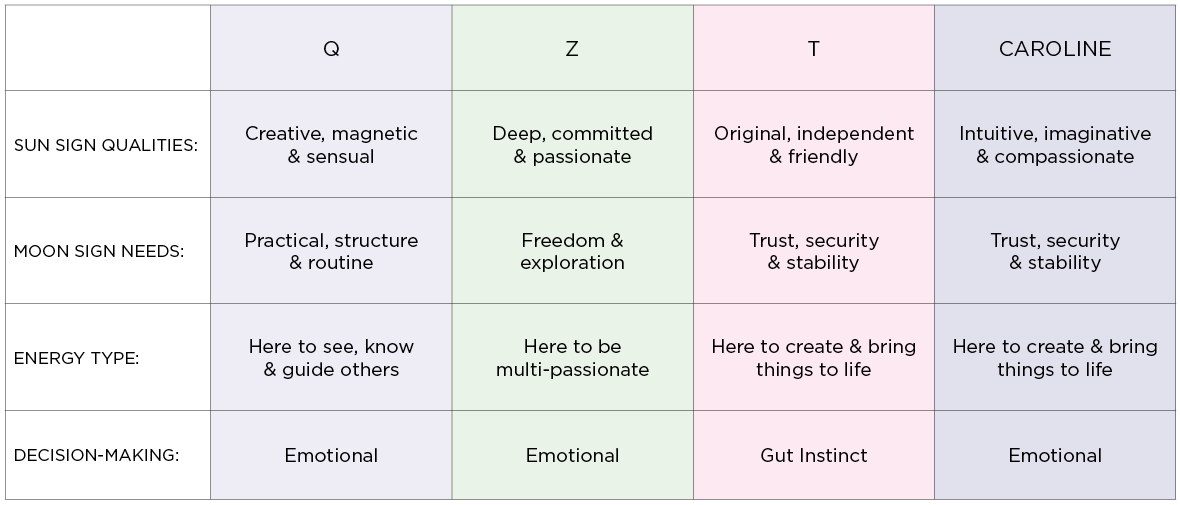 What can these three things tell us about ourselves and our kids?
Our Sun Sign represents how we see ourselves and who we're learning to be.
Our Moon Sign represents our emotional landscape or emotional personality, and the way we feel about life.
Our Human Design Energy Type represents what energy we were designed to bring to the world and how we can use that energy to best interact with the world around us.
For the purpose of this post, I've taken one of these things to show you a few ways Caroline can try to communicate differently with her two boys.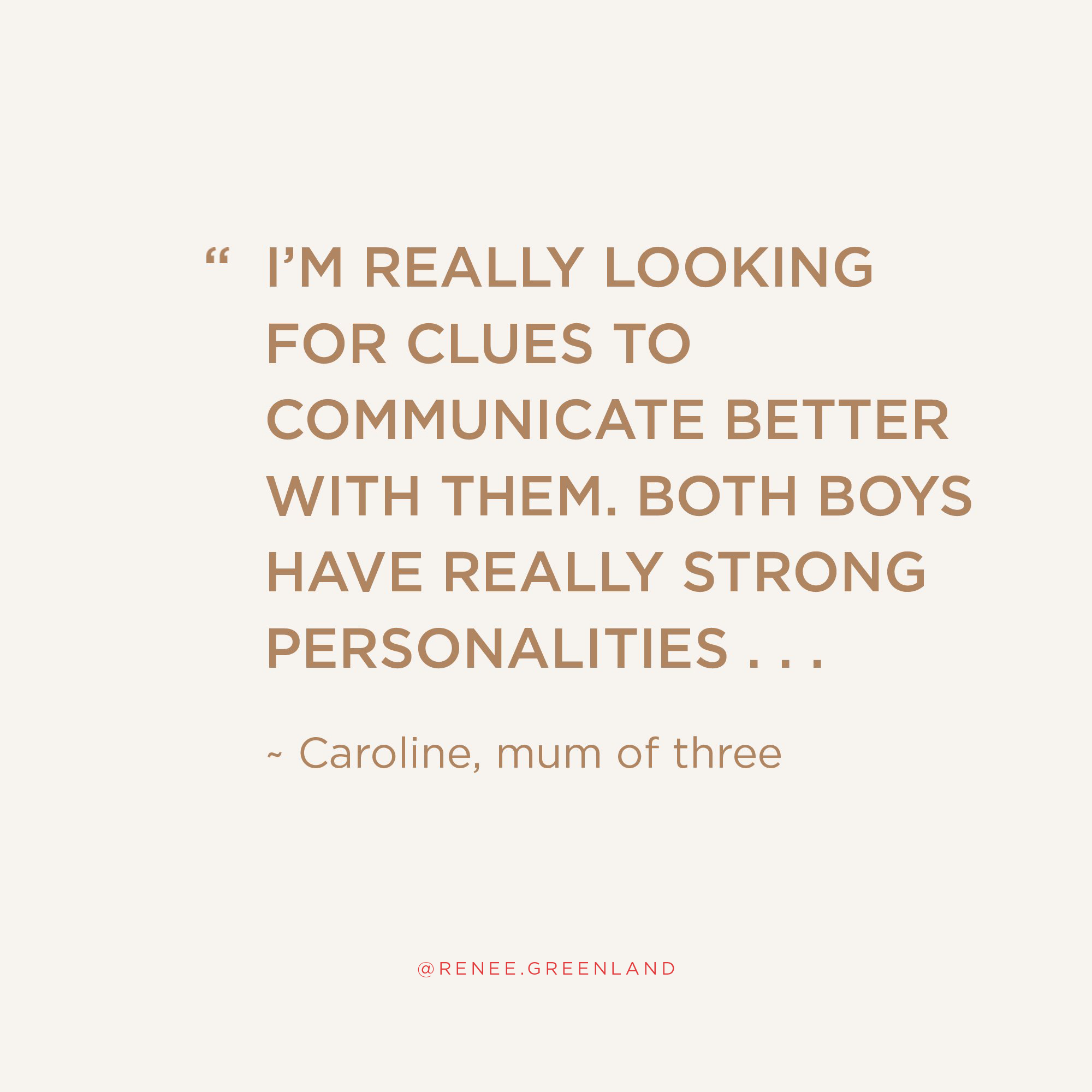 Here's how this Human Design information and child chart reading becomes helpful:
The boys have different energy types so it makes sense that 'what works for one doesn't for the other'.
Q's Human Design Energy Type is Projector, which means he's a deep observer and loves to watch, evaluate and process everything. He has a gift of seeing into others, and by watching others he learns about himself. His aura is penetrating and focused, and learning to be invited into things will be hugely beneficial for him.
Z's Human Design Energy Type is Manifesting Generator, so he moves really fast and can get more done in a day than the average little person. He loves doing more than one thing at a time and learns by trying everything. He'll discover that life will go a lot more smoothly if he lets people know what he's doing before he does it.
How can Caroline use this information to communicate with her boys better?
With Q being a Projector Caroline could try using these tips to communicate with him:
Try using words of affirmation and inviting him into things as much as possible.

Try asking him open ended questions.

Try celebrating who he is not what he does by affirming what makes him special. For example, 'I love the way you see things really clearly',

'I love the way you care about helping others', 'I love the way you take time for yourself when you need to'.
Try inviting him to participate and let him say no if he's not interested. Invitations can look like, 'Can you show me how you did it?', 'Would you like me to help me with . . ?' or 'Can you teach me about . .

?'
With Z being a Manifesting Generator, these tips could be helpful when trying to communicate with him:
Try to avoid the phrase, 'use your words'. Ask him YES or NO questions instead and listen to his grunt and groan responses.

Try giving him options to choose from and try asking him instead of telling him.

Know that telling him to 'slow down' and 'pick one thing' is hard for him to hear.

Practice complimenting him by saying things like, 'I love the way you challenge yourself', 'I love the way you do things that make your heart smile', 'I love the way you learn from your mistakes' and 'I love the way you think and move quickly'.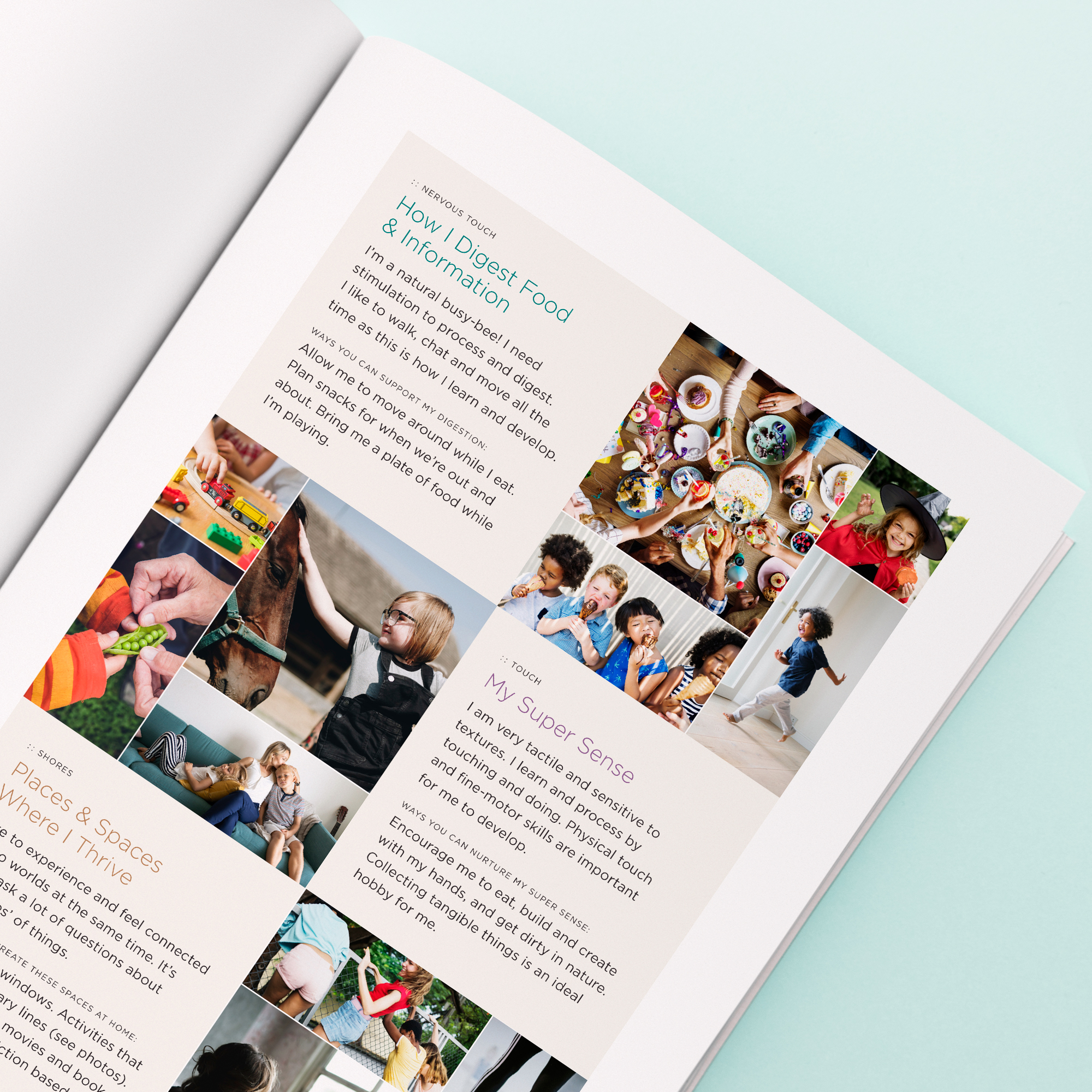 Both boys have Emotional Authority too. Meaning their emotions are their navigation systems and they both need to feel things out. They're not meant to make decisions on-the-spot.
With this knowledge, Caroline can try to give the boys time, and permission, to 'sleep on things'. She can let them experience the highs and lows of a decision before committing to things and this may help with some of the communication struggles too.
"I love these books! You are creating such an amazing resource. I almost want to say, where were you 10 years ago or even 5 years . . . but you are where you are supposed to be right now. I'm so glad I opened your email a few weeks ago. Thank you, thank you, thank you!"
~ Caroline, mum to three amazingly unique individuals.
Wanna discover this stuff about your child?
Grab your FREE copy of Emotions & Me workbook here:
I know for me, having awareness around my boys Human Design Energy Types, as well as their Moon Signs, has had a HUGE impact on the way I communicate with them . . . and in particular, when they're feeling the big feels and I'm struggling with their behaviour.
If you'd like clues as to how you can communicate with your kids in a new way, you might be interested in getting a child chart reading for them.
You can find out your kids energy type and Human Design info here.
To find out what their sun and moon signs are, you can do that for free here.
I love this stuff! If you've got any questions about any of this, comment below.
Until next time, take care!